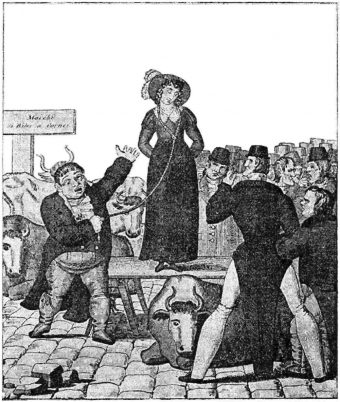 Let's say you're an 18th-century British peasant, and you
and your wife just aren't getting along anymore. What do you do?
Divorce her? Too expensive. Kill her? Too risky. Oh, well, looks
like you'll have to auction her off. Welcome to the wacky world of
wife selling!
HARDY HAR-HAR
Hands up all of you who've read Thomas Hardy's classic of
19th-century British misery,
The Mayor of Casterbridge. You know, the one where
everybody dies and life is shown to be a pointless parade of
squalor, pain, and death? You haven't gotten around to reading it
yet? Well, it's worth filling you in on a key plot point, namely,
that the main character, Michael Henchard, sells his long-suffering
wife at a public auction. Surely not, you cry! Not in civilized old
England. Thomas Hardy must have made it all up. Well, we're here to
tell you that it's all true. Right up until the early 1900s,
husbands in Britain were able to offer their wives to the highest
bidder.
GOING, GOING…
The Golden Age of wife selling was between 1780 and 1850, when
some 300 wives were sold (and that's just those that appeared in
the record books—doubtless many more spouses were gotten rid of
more quietly).
One of the earliest recorded wife sales took place in 1733, in
Birmingham, central England. The local paper of the day records how
"Samuel Whitehouse…sold his wife, Mary Whitehouse, in open market,
to Thomas Griffiths. Value, one guinea [about one English pound]."
As part of the deal, the paper comments, Griffiths was to take Mary
"with all her faults." Another wife, in 1801, was put up for sale
by her husband for one penny. Not surprisingly, this bargain
sparked a frenzied bidding war among the locality's lonely farmers,
and Mary eventually went for five shillings and sixpence. One
husband even managed to off-load his old lady for eighteen pence
and a quart of ale. An even luckier chap managed to trade in his
other half for…
As content editor, I get to do what I love everyday. Tweet, share and promote the best content our tools find on a daily basis.

I have a crazy passion for #music, #celebrity #news & #fashion! I'm always out and about on Twitter.
Latest posts by Sasha Harriet (see all)
More from Around the Web