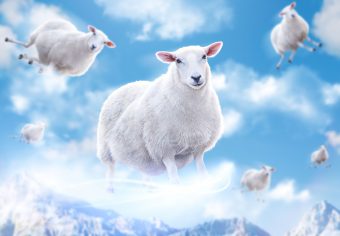 Whether it's flying tanks , literal bat bombs, surprisingly effective pigeon guided missiles, chicken heated nuclear weapons, or dogs that are trained to gruesomely take down tanks, humans have been using animals in war in a variety of bizarre ways. Today we're here to talk about yet another seemingly absurd animal war-time event of the 20th century that actually turned out to be something of a revolution in warfare- parasheep.
The actual innovation these parachuting sheep represented was the "flying supply column", a revolutionary idea that involved supporting a ground-based force with planes laden with things like ammo, food and water that would be dropped using parachutes. The idea was fully realised during WW2 with the advent of mass-produced carrier planes and more sophisticated and reliable parachutes. However, the idea was explored by other nations prior to WW2, with one of the first to implement it being Italy during the Second Italo-Ethiopian War.
Taking place between 1934 and 1936, the Second Italo-Ethiopian War, occurring in the Horn of Africa, ended in the creation of the relatively short-lived Italian colony of Italian East Africa. During the conflict, a large force of Italian soldiers were tasked with crossing the Danakil Desert located in what was then north-east Abyssinia (modern day Ethiopia).
Largely considered one of the most unforgiving landscapes on Earth, the Danakil desert, or at least the 120 or so miles of it the Italian army were scheduled to cross, represented an impractical barrier using classic supply line methods. Realising that every additional pound of equipment each man had to carry would increase the odds of dehydration or heat stroke under the glare of the harsh,…
As content editor, I get to do what I love everyday. Tweet, share and promote the best content our tools find on a daily basis.

I have a crazy passion for #music, #celebrity #news & #fashion! I'm always out and about on Twitter.
Latest posts by Sasha Harriet (see all)
More from Around the Web