Ryan asks: If the president has a pet dog, do their bodyguards also watch over his dog like they do his family?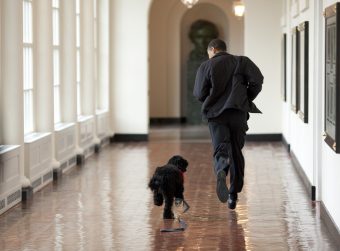 Even before the U.S. president is elected such, if they're considered a "major candidate" for the job, they get offered Secret Service protection. Whether they accept that protection or not, once elected until the day they die (unless they opt out after leaving office), they will be shadowed by an elite team of Secret Service agents. These individuals, while not actually sworn to do so (contrary to popular belief), are generally expected to, if necessary, give their lives to keep the president safe. While in office, this protection extends to a president's immediate family. But does this ever include their family pet? Technically no.
According to former Secret Service agent Dan Emmett, as noted in his book Within Arm's Length, the agents tasked with protecting the First Family are under no obligation to protect any pets said family may own. In fact, he noted that even beyond not directly having any obligation to protect the animals, "Walking the dog or cat is not and will never be a part of an agent's job description."
Emmett put this little tidbit in a section of his book specifically dispelling myths about the Secret Service. This is a section that humourously enough also includes this gem of a supposedly widely held myth:
Myth: All women are attracted to Secret Service agents.
Emmett goes on to explain that the truth is actually that only "Many women are attracted to Secret Service agents…" (Presumably to ones called Dan Emmett most of all.) On top of this, he states that the life of a Secret Service agent includes a
never-ending string of temptations sometimes literally thrust into one's face by women who are impressed by such things as men who protect the president. It can be almost frightening at times when seated in a bar, and a woman recognizes and agent she has just seen on television with the president. On more than one occasion, my shift mates and I had phone numbers and hotel room keys shoved into our hands or thrown to us while working a rope line with the president…. For the single agent, it was paradise; for many married agents, it was a constant struggle between good and evil, which was sometimes won and other times lost.
Back to literal dogs (as opposed to the cheating kind)- although the Secret Service isn't obligated by any means to walk or take care of the president's pet dog or cat (Emmett tersely claims that White House custodial staff do this), it doesn't mean they don't necessarily do it.
For example, Bo and Sunny, the pet Portuguese Water Dogs of the Obama's, were often pictured being taken for a walk by some member of Obama's protective detail. Given there were presumably other staff available for the task when necessary, we can only assume they did this because of scenarios like that the president was in the midst of doing so himself when called away for a moment (so they had to take over temporarily), and perhaps because they liked to walk the dogs, so weren't quick to call other White House staff in. After all, it stands to reason that Secret Service agents who spend a lot of time around the president would occasionally grow fond of the president's pets, assuming they liked the type of animal, and thus wouldn't mind the occasional pet detail.
Said agents have also been known to do such things as a favor to the president. For instance, the Secret Service agents…
As content editor, I get to do what I love everyday. Tweet, share and promote the best content our tools find on a daily basis.

I have a crazy passion for #music, #celebrity #news & #fashion! I'm always out and about on Twitter.
Latest posts by Sasha Harriet (see all)
More from Around the Web