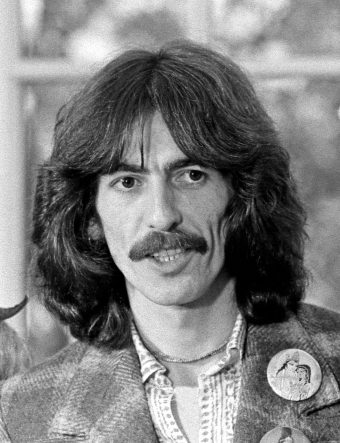 The business side of music can be a world of cutthroat legal practices and endless litigation. Here's the story of one of the biggest music legal battles of all time.
SOLO FLIGHT
In 1969 George Harrison was on a break from the Beatles and was doing some concerts in Copenhagen, Denmark, with the group Delaney and Bonnie and Friends. One day he slipped out of a press conference, grabbed his guitar, and started playing some guitar chords that were in his head. Then he added in two religious chants: the Christian "hallelujah" and the Hindu "hare krishna." Later he played it for the band, who joined in with four-part vocal harmony. Harrison fleshed out some verses about yearning to be closer to God, and titled it "My Sweet Lord."
A week later, Harrison flew to London to help produce an album by singer/keyboardist Billy Preston and gave him "My Sweet Lord" to record. The song went nowhere, but Harrison decided to record it himself for his first post-Beatles album, All Things Must Pass. Released as a single, "My Sweet Lord" became a number-one hit in January 1971.
At the time of the song's birth, Harrison thought elements of the song just popped into his head. He later figured out that subconsciously he'd been inspired by an old gospel song called "Oh Happy Day." Harrison insisted he hadn't "stolen" the song, he just used it as a starting point. And even if he had copied it directly, there were no legal ramifications—"Oh Happy Day" was in the public domain.
But as it would later turn out, another song did "pop" into Harrison's head and subconsciously inspire him. And that one had serious legal ramifications.
COVER ME
As "My Sweet Lord" rose up the charts, a cover version was released by a group called the Belmonts (formerly Dion and the Belmonts, best known for the 1959 hit "A Teenager in Love"). But instead of a straight cover of Harrison's song, the Belmonts' version interspersed lyrics from "He's So Fine," a 1963 hit by the girl group the Chiffons. It was uncanny: The songs meshed together perfectly, with nearly the exact same chord structure and many of the same notes.
The Belmonts' version was only a minor novelty hit. But it caught the attention of executives at Bright Tunes, the music publishing company that owned the copyright to "He's So Fine." In 1971 they sued Harrison, his label (Apple Records), and his publisher (Harrisongs Music Limited), claiming that Harrison had plagiarized "He's So Fine" and turned it into "My Sweet Lord," and was now profiting from it.
YOU NEVER GIVE ME YOUR MONEY
Guiding Harrison in the lawsuit was his business manager, Allen Klein. They'd worked together since early 1969, when Klein became the Beatles' business manager. Klein handled the Beatles' financial affairs shrewdly, saving Apple Records from bankruptcy, negotiating a new royalty rate ($.69 per album—the highest ever, at the time), and working for only a percentage of increased business. Nevertheless, Paul McCartney didn't trust Klein (he had an abrasive demeanor and was rumored to engage in shady business practices), and never actually signed the contract authorizing Klein to make decisions for him—one of the many disagreements that led to the Beatles' breakup in 1970.
Harrison tried to settle the suit quickly by offering to purchase the copyright to "He's So Fine" (for an undisclosed sum, probably less than $100,000, which would be about $600,000 today), but despite being on the verge of bankruptcy, Bright Tunes declined. Reason: Klein had secretly met with Bright Tunes execs and told them they'd get more money by suing Harrison than by settling. He produced documents showing that Harrison stood to make more than $400,000 (about $2.4 million today) from "My Sweet Lord," to which Klein told Bright Tunes that they had a right—and a shot in court—at ownership.
SOMETHING IN THE WAY HE SUES
Bright Tunes was in deep financial trouble at the time, and Klein likely knew it. A lengthy court battle would further deplete their funds, making Bright Tunes far more likely to settle for an offer— any offer—made for their back catalog. By encouraging Bright Tunes to sue Harrison, Klein was actually hoping to bring down the price on "He's So Fine" so that he could buy the rights and sue Harrison for copyright infringement himself.
Unaware of Klein's duplicity, Harrison was baffled when Bright Tunes declined his offer. Instead, they amended their lawsuit to request ownership of "My Sweet Lord" and half of all songwriting royalties earned by Harrison on the song, past and future. Harrison said no and the matter…
As content editor, I get to do what I love everyday. Tweet, share and promote the best content our tools find on a daily basis.

I have a crazy passion for #music, #celebrity #news & #fashion! I'm always out and about on Twitter.
Latest posts by Sasha Harriet (see all)
More from Around the Web