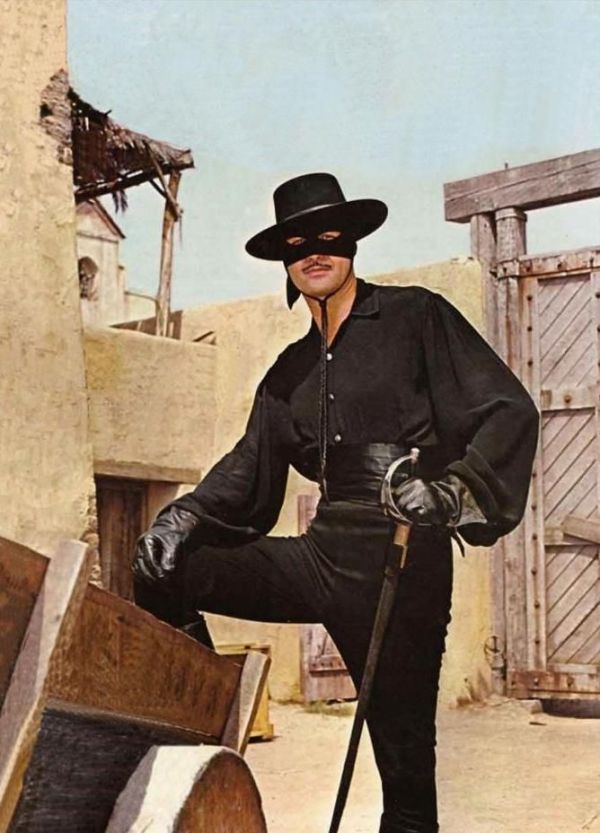 The following article is from the book Uncle John's True Crime: A Classic Collection of Crooks, Cops, and Capers.
Every cultural legend has to start someplace, even if it's from just a kernel of truth, expanded and embellished until it bears no resemblance to the original. Here's the possible origin of Zorro, the "bold renegade" who "carved a Z with his blade."
BACKGROUND
Pulp fiction writer Johnston McCulley created the swashbuckling character Zorro for a tale called "The Curse of Capistrano" that appeared in All-Story Weekly magazine in 1919. Literary historians believe McCulley based him on a number of characters, most of them fictional… and at least one real human being. It turns out that the story of the real man's life was just as unusual—and probably every bit as embellished—as Zorro's.
THE MAN
Not long after gold was discovered at Sutter's Mill in California in 1848, a young Mexican man named Joaquin Murrieta came to California with his wife, Rosa Feliz, and her brothers Claudio, Reyes, and Jesus. They hoped to strike it rich in the gold fields, but none of them did; the closest any of them got was when Claudio was arrested for stealing another miner's gold.
In 1850 Claudio escaped from jail and led his brothers and Murrieta in what became one of the most violent bandit gangs ever to terrorize the California gold country. The group was known to raid isolated ranches, but they preferred to rob lone travelers and Chinese miners (they thought the Chinese were less likely to be armed than whites or Mexicans). The gang murdered most of its victims after robbing them, to ensure that there were no witnesses.
The law began to catch up with the gang in September 1851, when Claudio was killed in a shootout following a robbery in Monterey County. Murrieta happened to be in Los Angeles at the time, and when Claudio died he assumed control of the gang. Not long afterward the bandits made the mistake of killing Joshua Bean, a major general in the militia. Murrieta then compounded the error by abandoning Reyes to his fate—Reyes was arrested for Bean's murder and hanged.
THE END
Jesus, the youngest of the Feliz brothers, apparently never forgave Murrieta for Reyes's death, because when the posse of state rangers caught up with him he willingly gave them the location of Murrieta's hideout. On July 25, 1853, Murrieta died in a gun battle not far from where Interstate 5 now intersects Highway 33 outside of Coalinga, California. After Murrieta died, Jesus gave up his life of crime, moved to Bakersfield, and started a family. He lived to a ripe old age and died in 1910.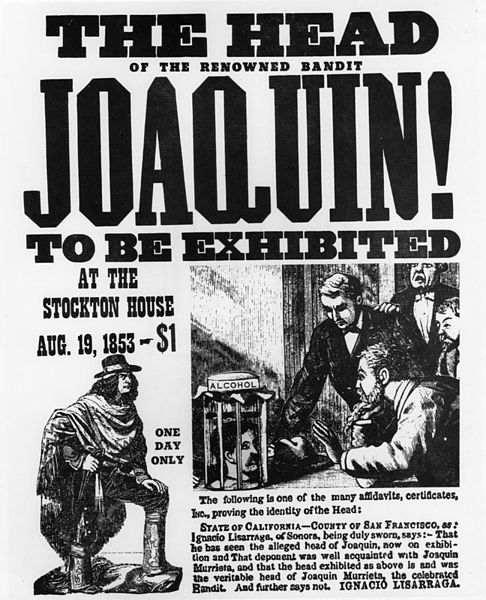 Murrieta was not as lucky. After he died in the shootout, the posse cut off his head and preserved it in a giant glass jar filled with brandy—there was a bounty on his head (so to speak), and in the days before fingerprinting and DNA evidence, posses had to be a little more creative in documenting that they'd gotten their man.
Murrieta's brandied head made the rounds of the "$1-a-peek, crime-doesn't-pay" lecture circuit for a few years; then it ended up as a feature attraction behind the bar of San Francisco's Golden Nugget Saloon, where for the price of a drink you could sit at the bar and stare at the…
As content editor, I get to do what I love everyday. Tweet, share and promote the best content our tools find on a daily basis.

I have a crazy passion for #music, #celebrity #news & #fashion! I'm always out and about on Twitter.
Latest posts by Sasha Harriet (see all)
More from Around the Web