Sue T. asks: My sister told me Sherlock Holmes was based on a real person. Is this true?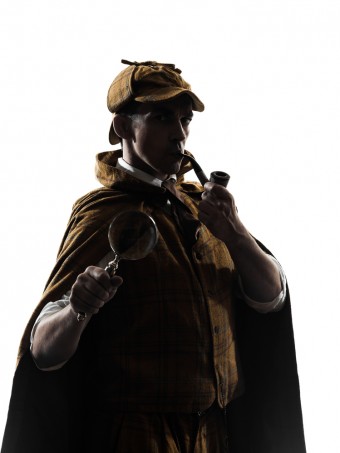 In 1887, Doyle published the novel "A Study in Scarlet." It was the first work to star Sherlock Holmes and Dr. Watson. It was also the first record of a magnifying glass being used as a tool of investigation. "A Study in Scarlet" didn't attract much attention (and neither did its sequel, "The Sign of Four.") but in the July 1891 issue of "The Strand Magazine", Doyle published the first short story starring Holmes. That's when the detective began to take off in popularity. Even early on, readers wanted to know who was the basis for this new type of crime fighter. Doyle couldn't have just conceived this eccentric, brilliant, logical character out of thin air, right? After more than a century since Sherlock Holmes made his first appearance on paper, evidence points to Holmes being based on primarily two individuals, as well as, perhaps, the author himself.
At the young and impressionable age of 18, Doyle was studying to be a physician at the University of Edinburgh in 1877. It was a professor by the name of Joseph Bell that drew Doyle's attention immediately. Dr. Bell's lectures were bombastic, entertaining, and fascinating. Using his amazing deductive abilities, Dr. Bell would make immediate conclusions about his patients that were often spot-on.
According to Doyle himself, as written in his autobiography, Bell's "strong point was diagnosis, of not only disease, but of occupation and character." In a famous example, also accounted in Doyle's autobiography, a man stepped forward to Bell without giving any information about himself. After a good eying over, Bell gave this conclusion about the man he'd never met before:
Well, my man, you've served in the army… Not long discharged… A Highland regiment… A non-com officer… Stationed at Barbados…
Bell was correct on all points. He explained how he did it as follows,
You see, gentlemen, the man was a respectful man but did not remove his hat. They do not in the army, but he would have learned civilian ways had he been long discharged. He has an air of authority and he is Scottish. As to Barbados, his complaint [why he was visiting the doctor] is elephantiasis, which is West Indian, not British, and the Scottish regiments are at present in that particular island.
Conan Doyle said of such displays of Bell's, "To his audience of Watsons, it all seemed very miraculous until it was explained, and then it became simple enough."
During Doyle's second year, Bell "singled" him out and made him his outpatient clerk, which meant he took basic notes of the patients who came in and presented them to Bell. Essentially, he became Bell's Watson. Ten years later, when Doyle put pen to paper, this…
As content editor, I get to do what I love everyday. Tweet, share and promote the best content our tools find on a daily basis.

I have a crazy passion for #music, #celebrity #news & #fashion! I'm always out and about on Twitter.
Latest posts by Sasha Harriet (see all)
More from Around the Web