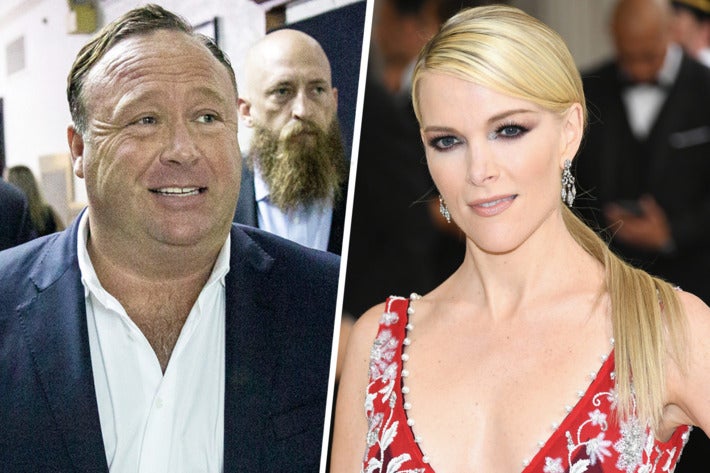 Broadcast journalist Megyn Kelly's interview with right-wing conspiracy theorist Alex Jones has sparked major outrage since it was announced. Most harshly, critics have called Kelly's invitation for Jones to appear on her show an insult to the victims of the 2012 Sandy Hook massacre.
Jones has previously claimed that the massacre, which resulted in the deaths of twenty children and six adults, was a false-flag attack in which paid actors played the parts of victims and their families.
This is just one of the many lies Jones has repeated on his show. To add to his shameful history of peddling blatant falsehoods about national tragedies, Jones has even lied about his lying.
Since the interview was announced, he has denied calling Sandy Hook a conspiracy and claimed to have simply "played devil's advocate" in the debate over the legitimacy of news reports surrounding the tragedy. This has turned out to be utterly false, as he said on his show that "no one died" at Sandy Hook and called it a "complete hoax"
For his lies and hypocrisy, I personally loathe Alex Jones and deeply wish he didn't have a following of millions eagerly lapping up his incoherent ramblings.
I also deeply wish he didn't have the respect of the President of the United States, who repeatedly praised Jones on his show and gave him White House press credentials despite his lack of personal, let alone "journalistic" integrity.
But the fact remains that he has that following. He has the respect of President Trump and he's not going to lose those things if we as a society simply ignore him.
If Jones was just some rambling lunatic with no audience to account for, I'd agree with Kelly's critics that there is no compelling reason to interview him. But Jones has…
As content editor, I get to do what I love everyday. Tweet, share and promote the best content our tools find on a daily basis.

I have a crazy passion for #music, #celebrity #news & #fashion! I'm always out and about on Twitter.
Latest posts by Sasha Harriet (see all)
More from Around the Web