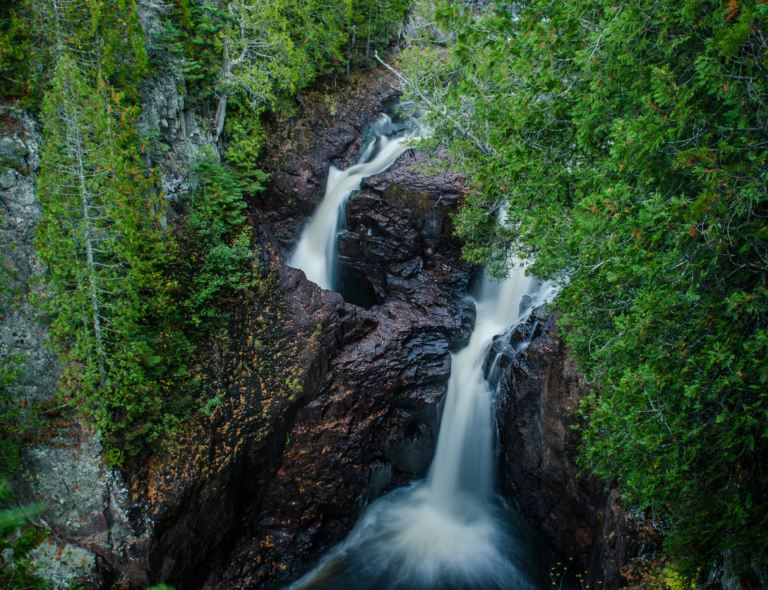 In Judge C. R. Magney State Park in Minnesota, there exists a natural phenomenon along the Brule River known as the Devil's Kettle- a waterfall that splits in two, with one half falling about 50 feet into the river below and continuing on its merry way towards Lake Superior and the other half falling into a large hole in the ground that seems to go nowhere. In fact, local legend posits that anything thrown into the Devil's Kettle will never be seen again. People trying to disprove this have thrown everything from boxes of ping pong balls to giant logs into the hole to see where they end up, with nothing ever seeming to emerge anywhere nearbye. So where is the stuff thrown in going?
For many years, the most popular hypotheses put forward were that the water falling into the hole either flowed into a hidden underground limestone cave carved into the rock by eons of flowing water or it flowed into a lava tube.
If you're unfamiliar, a lava tube is pretty much what it sounds like- a large tube formed by flowing lava as it cools. In a nutshell, as the top layer cools and hardens, lava underneath potentially continues to flow for some time until the source of the lava stops. This can lead to that inner layer of lava draining and leaving behind a large empty tube in a lava rock shell.
Thus, the hypothesis is that the falling water cut through the surface rock at some point and fell into an ancient lava tube formed at the same time as the rest of the volcanic rocks in the area.
This sounds perfectly plausible, but the issue is that while rhyolite, which forms the bedrock on top of which the river system is located, is a volcanic rock, it doesn't form lava tubes. And as for the basalt layer underneath, while this can form lava tubes, this particular type is flood basalt, which comes up from fissures, rather than flowing down from a volcano. Thus, flood basalt is incredibly unlikely to create lava tubes (more typically just creating large seepage sheets of rock) and no such lava tubes have ever been discovered in the area, despite many known lava beds in the region.
As for the other popular hypothesis, this is that there perhaps is a large underground limestone cave or river system the water drains into. However, the nearest limestone deposits to the park are hundreds of miles away and rhyolite is much too hard of a rock for such a cave system to likely have formed in it.
Despite these two hypothesis thought to be unlikely by most, they were long the best guesses simply because nothing anyone ever threw into the hole ever…
As content editor, I get to do what I love everyday. Tweet, share and promote the best content our tools find on a daily basis.

I have a crazy passion for #music, #celebrity #news & #fashion! I'm always out and about on Twitter.
Latest posts by Sasha Harriet (see all)
More from Around the Web