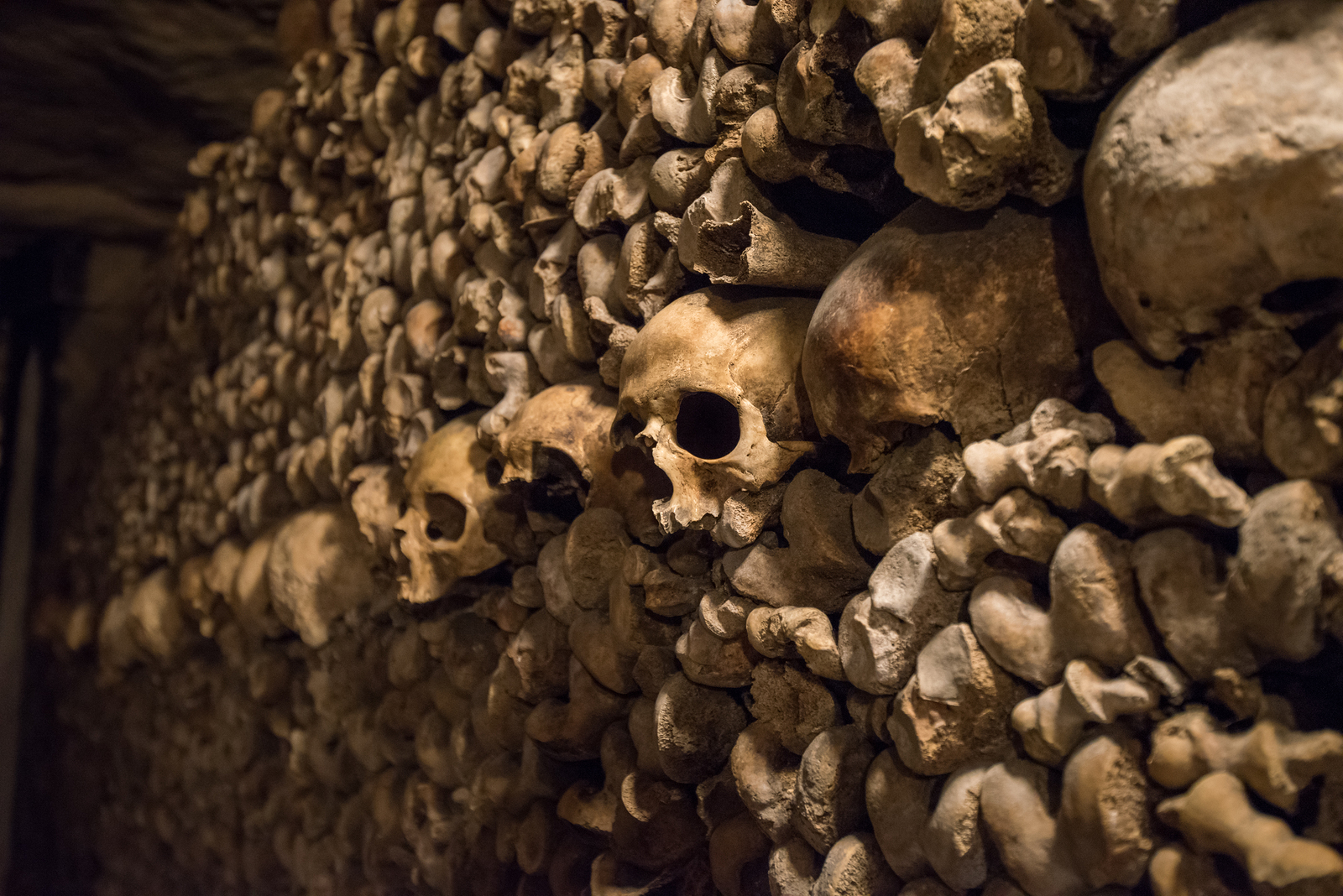 If you think the streets of Paris are enchanting, wait till you discover what lurks below.
THEY DUG PARIS
Most visitors to Paris have no idea that beneath the City of Light is a dark labyrinth of branching tunnels and abandoned quarries. Paris sits atop massive limestone and gypsum formations that have been quarried for more than 1,000 years. The Romans chiseled the fine-grained limestone into bathhouses and sculptures. The French used it to build thousands of buildings, everything from Notre Dame cathedral and the Louvre Museum to Paris Police Headquarters. As for the gypsum, ever heard of plaster of Paris? That's where it comes from.
When the mining started, the quarries were outside of town, but over the centuries the city spread and so did the quarries. Eventually Paris ended up with a 1,900-acre underground maze that starts about 15 feet below the streets and ends 120 feet underground. Parisians call the multi-level maze gruyère (Swiss cheese), and that's exactly what a cross-section of the ground beneath their feet looks like.
THAT SINKING FEELING
When an entire city ends up on holey ground, things get shaky. Residents got their first glimpse of how unstable their city had become in 1774, when one of the tunnels collapsed, gulping down houses and people along Rue d'Enfer ("Hell Street"). Parisians panicked, so Louis XVI created the Inspection Generale des Carrieres (quarry inspectors) and appointed architect Charles-Axel Guillaumot as its first chief. He instructed Guillaumot to do three things: 1) find all the empty spaces under Paris, 2) make a map of them, and 3) reinforce any spaces below public streets or below buildings belonging to the king. Personally inspecting the sinkholes to a depth of more than 75 feet, Guillaumot was horrified by what he found and told Louis the truth: "The temples, palaces, houses, and public streets of several parts of Paris and its surrounding areas are about to sink into giant pits."
MOLD LANG SYNE
That wasn't the only problem in Paris. Thanks to war, famine, and plague, the city's cemeteries were full to overflowing. One frosty February morning in 1780, a homeowner started down into his cellar but was immediately driven back upstairs by a terrible stench. Egged on by his neighbors (and wearing a vinegar-soaked handkerchief over his nose), he crept back down and found 20 decaying bodies, covered in graveyard mold, bursting through the wall. The graveyards had finally gone beyond their limits.
But where others saw a problem, King Louis saw an opportunity. He closed the cemeteries and had the bones dug up and stacked into the quarries. Six million skeletons—mounds and stacks of skulls and tibias, femurs and spines—turned the chambers into catacombs, an underground boneyard that became known as…
As content editor, I get to do what I love everyday. Tweet, share and promote the best content our tools find on a daily basis.

I have a crazy passion for #music, #celebrity #news & #fashion! I'm always out and about on Twitter.
Latest posts by Sasha Harriet (see all)
More from Around the Web