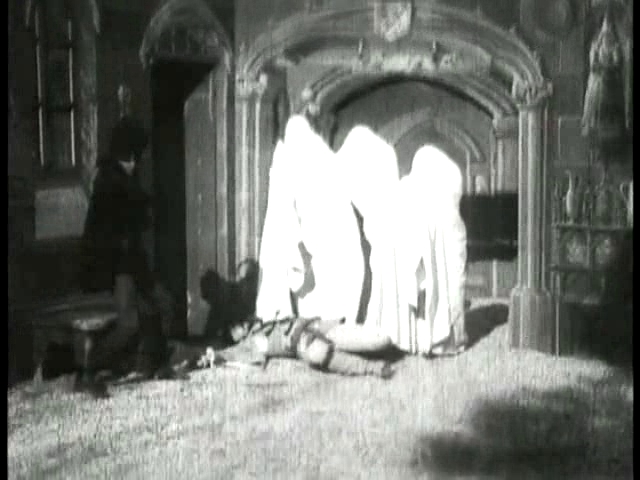 The world's first horror movie begins with a bat flying into a castle then magically turning into a caped demon figure known as Mephistopheles. It ends with Mephistopheles being chased out by someone holding a crucifix.
Okay, the Shining or Exorcist, it is not. But this 1896 film entitled Le Manoir du Diable (or "The Haunted Castle") directed by legendary film visionary Georges Méliès is generally considered the first horror movie ever created. Featuring a boiling cauldron, a tiny minion, phantoms, a skeleton, apparent suicide from one of the terrified characters, and even a witch, it certainly hits a few of the tropes we are accustomed to seeing in today's scary movies. The film's (for the time) state-of-the-art special effects also adds thrills. And all of these screams are delivered in a runtime of just under three minutes.
It's generally accepted that the first "movie" ever was Eadweard Muybridge's groundbreaking 1878 "Horse in Motion,", which we've covered in fascinating depth here. But the method used to capture the images used in that one was essentially just high-speed photography using multiple cameras. The result was more or less what we'd think of as a very short animated gif, than a movie. It all changed, however, when Thomas Edison visited Muybridge's studio sometime in the mid-1880s. Taking a keen interest in Muybridge's groundbreaking work, but unimpressed by his execution, Edison began to develop a device that "would do for the eye what the phonograph does for the ear."
Around 1889, the Kinetograph debuted out of Edison's West Orange lab. Despite Edison's claims that he was the one who invented what many hail as the first camera to photograph motion pictures, historians generally attribute Edison's assistant, William Kennedy Laurie Dickson, as the creator of this history-making invention.
In 1890, Dickson shot a test movie he entitled Monkeyshines No. 1, featuring the movements of another lab assistant, with the result being like something a ghost hunter would use as "proof" that evil spirits are lurking, rather than like the films that would soon start to come out. Nevertheless, it's generally given credit for being the first official video camera motion picture in history. It also inspired Edison to build what was perhaps the first movie studio near his West Orange lab. Calling it "Black Maria" because they thought it resembled a police wagon, this is where they shot hundreds of motion pictures featuring vaudeville, magic shows, boxing matches, and Wild Wild West stunts – included among the latter is a video of Annie Oakley showing off her prodigious skills with a rifle.
From here, motion picture innovation took off. In April 1894, the Kinetoscope Parlor opened in New York City – essentially the first public movie theater. Then, there was the first movie projected for a wide audience, the first on-screen kiss, and the first theater permanently created entirely for a film.
In 1895, the Lumières brothers, who made several groundbreaking advancements of their own in film and video camera design, became the…
As content editor, I get to do what I love everyday. Tweet, share and promote the best content our tools find on a daily basis.

I have a crazy passion for #music, #celebrity #news & #fashion! I'm always out and about on Twitter.
Latest posts by Sasha Harriet (see all)
More from Around the Web