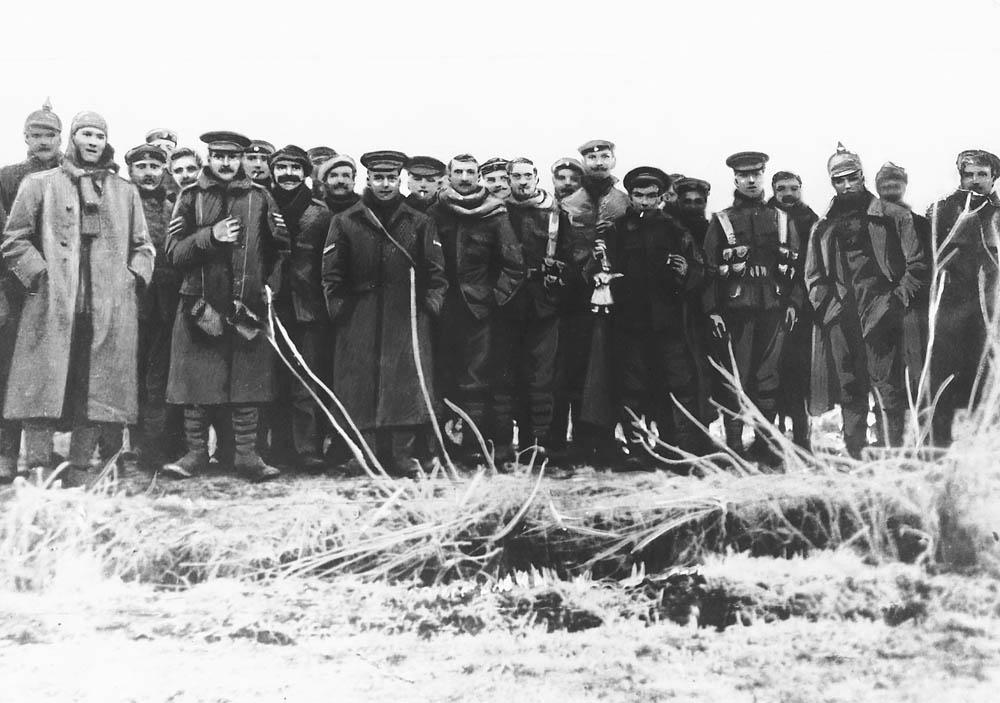 On the whole, people don't generally like to kill one another. Most wars throughout history are often more about the agendas of the state's leaders than the soldiers on the field actually inherently feeling any real malice towards those they are asked to try to kill or otherwise defeat. Few events in history illustrate this as well as a remarkable episode that took place during WWI when, despite the orders of their commanding officers and leaders, the soldiers threw aside their weapons, got out of the trenches and had a make-shift Christmas party with those that just hours before they'd been trying to kill. This momentous event has become known as The Christmas Truce.
Leading up to this impromptu truce in 1914, Pope Benedict XV had asked that the various governments participating in the war would negotiate a truce for one day, so that "the guns may fall silent at least upon the night the angels sang." There was also an "Open Christmas Letter" sent out by British women's suffragists to the women of Germany and Austria, asking for peace. (The German women's suffragists responded in kind and an exchange of letters ensued where they discussed peace and the horror of "modern" war.)
In the United States, a resolution was submitted in the Senate attempting to get the warring countries to stop fighting for 20 days leading up to and including Christmas "with the hope that the cessation of hostilities at the said time may stimulate reflection upon the part of the nations at war as to the meaning and spirit of Christmas time."
The leaders of the warring nations paid little attentions to these attempts at peace. The American weekly, The New Republic, noted just before Christmas of 1914,
If men must hate, it is perhaps just as well that they make no Christmas truce… The stench of the battle should rise above the churches where they preach good-will to men. A few carols, a little incense and some tinsel will heal no wounds… [A truce would be] so empty that it jeers at us.
But a somewhat alarming (to the commanding officers and leaders of the nations) trend had already started occurring amongst the troops on both sides leading up to the truce. Stuck knee deep in their muddy trenches along lines so close together, the soldiers on both sides, who'd commonly thrown insults back and forth, started adopting a slightly more apathetic view of the war, more of a "live and let live" policy. In some cases, they even started tossing newspapers and other things back and forth, bartering for supplies like cigarettes, rations and the like, and holding conversations across the trenches.
As one Royal Engineer, Andrew Todd said,
Perhaps it will surprise you to learn that the soldiers in both lines of trenches have become very 'pally' with each other. The trenches are only 60 yards apart at one place, and every morning about breakfast time one of the soldiers sticks a board in the air. As soon as this board goes up all firing ceases, and men from either side draw their water and rations. All through the breakfast hour, and so long as this board is up, silence reigns supreme, but whenever the board comes down, the first unlucky devil who shows even so much as a hand gets a bullet through it.
Another such temporary truce instance occurred on December 19, (recounted by Lieutenant Geoffrey Heinekey):
…a most extraordinary thing happened… Some Germans came out and held up their hands and began to take in some of their wounded and so we ourselves immediately got out of our trenches and began bringing in our wounded also. The Germans then beckoned to us and a lot of us went over and talked to them and they helped us to bury our dead. This lasted the whole morning and I talked to several of them and I must say they seemed extraordinarily fine men… It seems too ironical for words. There, the night before we had been having a terrific battle and the morning after, there we were smoking their cigarettes and they smoking ours.
This type of behavior, perhaps inherent in any war where the two sides have to live and fight in such close proprieties and for such a long duration, began popping up more and more in sections of the line, prompting the army leaders to issue strict orders forbidding any fraternization with the "enemy". (Interesting to think that today something like this likely could never happen as our weapons and technology has become so advanced that we needn't actually see our enemy up close, or even at all, to attack and kill them.)
These incidents of temporary peace along the line typically didn't last very long and were never wide spread, happening in very small pockets. This changed on Christmas Eve of 1914 beginning along the trenches near Ypres, Belgium. It is reported that it started with the Germans setting up Christmas…
As content editor, I get to do what I love everyday. Tweet, share and promote the best content our tools find on a daily basis.

I have a crazy passion for #music, #celebrity #news & #fashion! I'm always out and about on Twitter.
Latest posts by Sasha Harriet (see all)
More from Around the Web