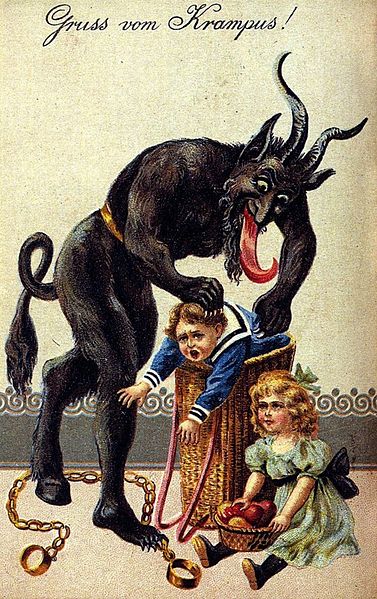 Santa Claus has long been the symbol of Christmas, bringing joy and presents to all the good girls and boys. But if you are child in Germany, Austria, and other parts of the Alps region, there may be something much more dark, mischievous, and grumpy hidden in the shadows next to dear old St. Nick. That something is Krampus, the Christmas demon.
A beast-like creature with fangs, fur, and horns, Krampus announces his presence with loud bells and terrorizes the kids who have been naughty during the year. While Santa gives the good ones gifts and joy, Krampus gives the bad ones beatings with a whip (made from birch sticks and horsehair) and nightmares. As for the really, really naughty kids, Krampus drops them in a sack (or a wicker basket on his back) and whisks them away to his lair – which is of course the underworld – never to be seen again.
So how did this mythological beast come to be a part of this region's Christmas tradition?
High up in the Alp countries of Europe is where Krampus was born, or, more accurately, where the legend was created. The word "Krampus" is derived from the Old High German word krampen, meaning "claw." According to Norse mythology, Krampus is the son of Hel, the goddess ruler of the underworld. There are also a few physical similarities between Krampus and Greek mythical creatures – like the horns and hoofs of satyrs and fauns.
Scholars estimate that Krampus started appearing around the 13th century, if not earlier – perhaps in the 11th century. Originating in Southern Germany and Austria (the area known as Bavaria), the creature moved to other European countries such as Switzerland, Czech Republic, Hungary, and even the Alp villages of Italy, sometimes with variations on the name and practiced customs. For example, in Tyrol (a state in western Austria), Krampus tends to look like a giant, sadistic, teddy bear. In western Germany, he actually arrives with Santa, sitting shotgun in his sleigh. In Styria (southeast Austria), the birch sticks used for his whip are painted gold and displayed year around, to remind kids of Krampus's impending arrival.
According to Al Ridenour, director of Krampusfest LA and in an article he wrote for Atlas Obscura, this is due to the regions' isolation and each communities' interpretation of Krampis. Said Ridenour,
"Long before the circulation of any (art)…
As content editor, I get to do what I love everyday. Tweet, share and promote the best content our tools find on a daily basis.

I have a crazy passion for #music, #celebrity #news & #fashion! I'm always out and about on Twitter.
Latest posts by Sasha Harriet (see all)
More from Around the Web