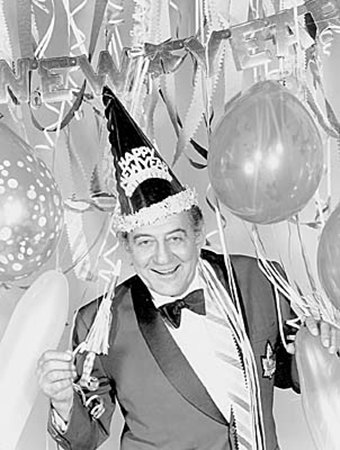 This tradition is mostly thanks to Guy Lombardo and the Royal Canadian Band. While their work is largely unknown to those born in the last few decades, the band has sold over 300 million records to date. Guy Lombardo himself has three stars on the Hollywood Walk of Fame, and he was once the "Dick Clark" of New Years before Clark and his "New Year's Rockin' Eve," attempting to appeal to younger audiences, started supplanting "Mr. New Year's Eve," Guy Lombardo.
It was in 1929 that Guy Lombardo and his band took the stage at the Roosevelt Hotel in New York City on New Year's Eve. Their performance that night was being broadcast on the radio, before midnight Eastern-time on CBS, then after on NBC radio.
At midnight, as a transition between the broadcasts, the song they chose to play was an old Scottish folk song Lombardo had first heard from Scottish immigrants in Ontario. The song was Auld Lang Syne.
Previous to this, there are several documented instances of others singing this song on New Year's Eve,…
As content editor, I get to do what I love everyday. Tweet, share and promote the best content our tools find on a daily basis.

I have a crazy passion for #music, #celebrity #news & #fashion! I'm always out and about on Twitter.
Latest posts by Sasha Harriet (see all)
More from Around the Web