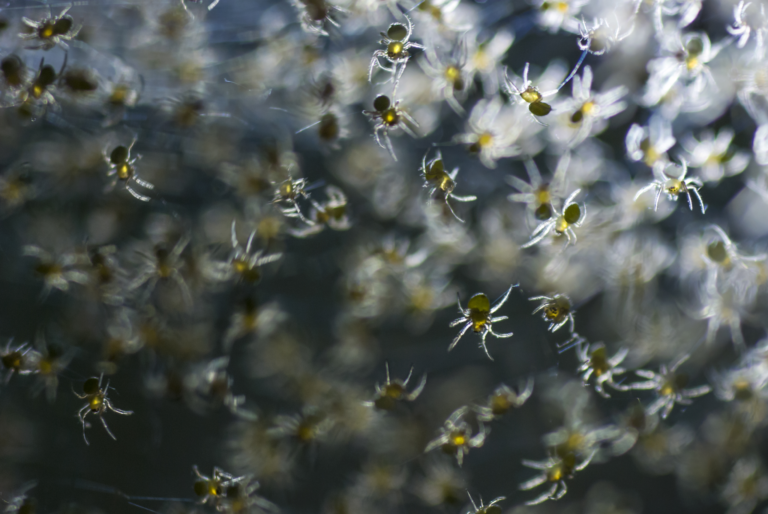 Worryingly described by entomologists and arachnologists as a "not uncommon" occurrence in certain parts of the globe, spider rain can see anywhere from a few thousand to several million spiders tumble from the sky in a given area, seemingly out of nowhere.
So what causes it? This is thanks to a rather interesting behaviour exhibited by spiders known as ballooning, which essentially involves an individual spider climbing to a high point and then firing strands of silk into the air, with the result being the spider being carried away by the wind, sometimes for many hundreds of miles.
Arachnologists are quick to point out that countless spiders are probably flying around over head at any particular time and that they usually land without much fanfare and go about their way. Sometimes, though, many thousands or millions of spiders will decide to balloon at the exact same time, either because they're a single colony or because weather conditions force them to. In regards to the latter, on rare occasions certain weather patterns can see the millions of spiders floating through the air at any given time being thrown to Earth simultaneously at the same location.
Other known causes of spider rain are floods and wildfires, which can prompt spiders to flee en masse to escape what would otherwise be their own demise, concerningly illustrating that the age old "kill it with fire" way of getting rid of spiders isn't fool-proof.
As an example of the former flood trigger phenomenon, in Pakistan following devastating floods throughout the country in 2010, millions of spiders noped out of there in a hurry via mass ballooning. While you'd expect the people of Pakistan…
As content editor, I get to do what I love everyday. Tweet, share and promote the best content our tools find on a daily basis.

I have a crazy passion for #music, #celebrity #news & #fashion! I'm always out and about on Twitter.
Latest posts by Sasha Harriet (see all)
More from Around the Web