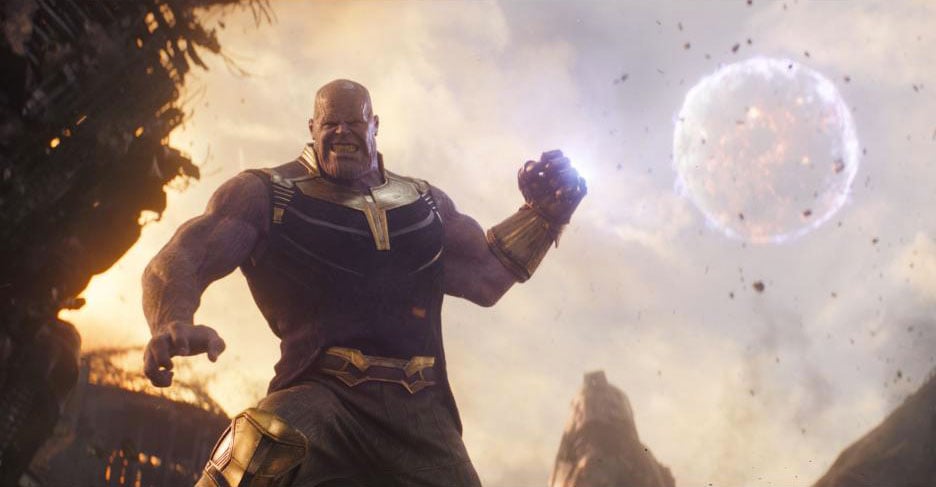 Hooooo boy, the Avengers have their work cut out for them in the trailer for Avengers: Infinity War. (Don't @ me for retreating under my desk after watching it, OK?) For the first time, we finally have an idea of what they're up against when it comes to Thanos, the Mad Titan, who's been lurking in postcredits scenes for years. Unfortunately for the team, the most formidable villains often believe they're actually the hero in the story, and Thanos does too. So what does he actually want?
To Gather the Infinity Stones
Thanos's first order of business is to collect the Infinity Stones, all-powerful relics left over from the creation of the universe. While each stone is more than impressive enough on its own, Thanos needs all six to complete his real goal, which is where the Avengers come in. Thanos's quest for the stones brings him to Earth, where at least two of them currently reside: the yellow Mind Stone embedded in the Vision's forehead and the green Time Stone worn by Doctor Strange.
Why does Thanos even need the Infinity Stones, though? Well . . .
To…
As content editor, I get to do what I love everyday. Tweet, share and promote the best content our tools find on a daily basis.

I have a crazy passion for #music, #celebrity #news & #fashion! I'm always out and about on Twitter.
Latest posts by Sasha Harriet (see all)
More from Around the Web