Michael C. asks: Was there ever a real Little Debbie or is she a fake mascot like so many other brand people?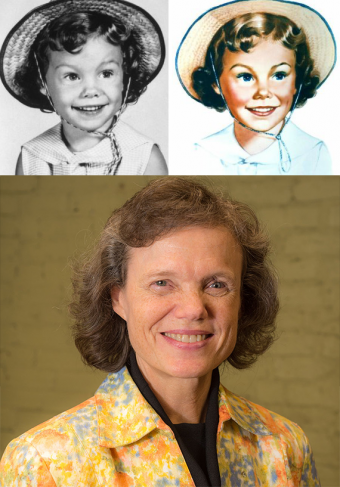 Who is Little Debbie? The simple answer is that she's the straw-hat-wearing, blue-eyed little girl on the front of the box of delicious confectioneries like Oatmeal Creme Pies, Honey Buns and whatever Star Crunches are. However, that's not all she is. "Little Debbie" is also the Executive Vice President of McKee Foods, the eight-decade-old still family run company that makes all of these treats – plus Zebra Cakes and Cosmic Brownies. Her real name is actually Debbie McKee-Fowler and here's how she became the face – and Executive Vice President – of the company that makes Swiss Rolls.
It was 1933 and the country was in the throes of the Great Depression. Nearly a quarter of the nation was unemployed and bread lines went blocks; in short, many were desperate, including O.D. and Ruth McKee who had lost most of their money due to a bank failure. What the couple did still have, however, was a 1928 Whippet car. According to McKee Foods' official history, this was when O.D. started selling five-cent Virginia Dare Cakes made by Becker's Bakery out of the back of said vehicle. By the next year, business was good enough that they were able to purchase a Chattanooga, Tennessee bakery, Jack's Cookie Company.
In what was a unique arrangement for the time, Ruth became a full managing partner in the business with her husband. While O.D. traveled the state making sales and coming up with some innovative ways to produce new product, she baked, managed the office and took charge of the few employees they had. They were, as the company's official history put it, "ideal business partners because her cautious, conservative nature was the perfect complement to his risk-taking, adventuresome spirit."
Years later, Jack McKee would explain that his parents had "a unique opportunity during the Great Depression and they took a risk." A few months later, the bet seemed to be paying off with the bakery moving to a larger location down the street.
But all wasn't perfect. In 1934, they took on Ruth's father, Symon King, as a partner. It's not clear why they did this, perhaps they needed…