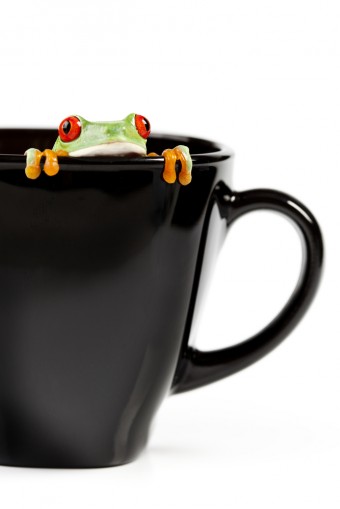 For centuries, before refrigeration, an old Russian practice was to drop a frog into a bucket of milk to keep the milk from spoiling. In modern times, many believed that this was nothing more than an old wives' tale. But researchers at Moscow State University, led by organic chemist Dr. Albert Lebedev, have shown that there could be some benefit to doing this, though of course in the end you'll be drinking milk that a frog was in.
Ice boxes first became available to consumers in the early to mid-19th century and, with that, the ice trade became big business. New England and Norway became major purveyors of ice, but anywhere it was cold, ice was a major export. Usually made out of wood with tin or zinc walls and insulation material like sawdust, cork, or straw, ice boxes were popular until they were rendered obsolete by the electrical refrigerator starting around the 1930s.
Jacob Perkins invented the first version of the refrigerator in 1834 when it was discovered that the hazardous compound ammonia, when liquefied, had a cooling effect. But it wasn't until the late 1920s when Freon was developed by General Motors and DuPont as a "nontoxic" cooling agent, and replaced ammonia, that refrigerators for consumers started to gain traction.
Despite the prevalence of ice in parts of Russia, in certain small rural Russian villages many didn't have access to ice boxes, so they had to find ways to keep things cold and unspoiled. A practice developed, that continued into the 20th century, as described by Dr. Lebedev from memories from his childhood,
[For] small portions of milk to drink, they used to put [a] frog inside… A small frog over there could prevent the milk from being spoiled.
This rather curious practice was an inspiration for a study and, then, a discovery that may lead to a significant new source of antibiotics. In 2010, scientists from United Arab Emirates University made an announcement that the secretions from certain frogs' skins have antibacterial and antifungal properties. Using species native to…