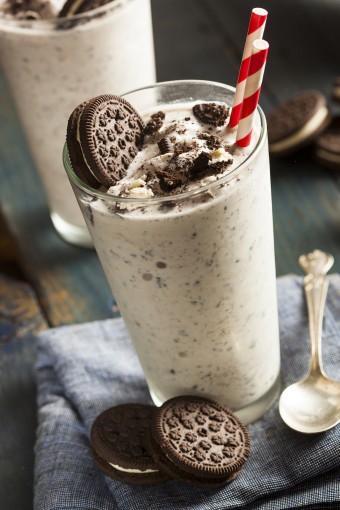 In 1890, a group of eight large New York City bakeries combined to form the New York Biscuit Company and built a giant six-story factory in West Chelsea. Eight years later, they merged with their competitor, Chicago's American Biscuit and Manufacturing to form an even larger conglomerate – the National Biscuit Company, but the factory and headquarters remained in Chelsea. In 1901, the National Biscuit Company put their abbreviated company name on a box of wafers for the first time – Nabisco. Soon, Nabisco became the company's official name.
On April 2, 1912, the National Biscuit Company announced to their sales team that they were introducing three "highest class biscuits," in a grouping they called the "Trio." Two of the cookies, the Mother Goose Biscuit and Veronese Biscuit, didn't sell particularly well and quickly disappeared from the shelves. The third, the Oreo Biscuit, did. "Two beautifully embossed chocolate-flavored wafers with a rich cream filling," the Oreo Biscuit was sold in a yellow tin with a glass cover for approximately 30 cents a pound (about $7.13 today). While it went national in April, it was just a month before that the National Biscuit Company first registered the product with the US Patent and Trademark Office (registration number 0093009). It is commonly stated the given date of registration was March 6th, which is why that is National Oreo Day. However, a simple patent and trademark search reveals that oft-repeated date is incorrect. In fact, it was actually filed on March 14, 1912 and registered on August 12, 1913.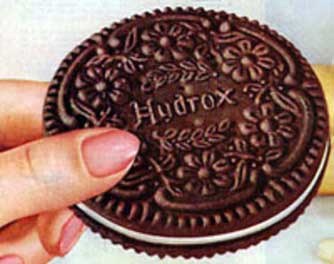 So how did they come up with the idea of the Oreo? By using the time-honored business practice of stealing the idea from a competitor and then marketing it better than the original. You see, there was another popular creme-filled sandwich cookie that came before the Oreo, made by Sunshine Biscuits. Sunshine Biscuits was a company run by Joseph and Jacob Loose and John H. Wiles, the former of which were originally part of the great bakery conglomeration of 1898 (the one that formed into the National Biscuit Company).
Wanting a more personal approach to baking and not wanting to be lost in the bakery conglomerate, Loose liquidated his assets and helped form Sunshine Biscuits. (The company actually was the third largest cookie baker in the US when it was acquired in 1996 by Keebler. To this day, the Sunshine brand still appears on Cheez-its, among other products.)
In any event, in 1908, four years before the Oreo, Sunshine debuted the upscale, and soon to be very popular, Hydrox biscuit, which the Oreo was a pretty blatant rip-off of, cream filling, embossing and all. Of course, Nabisco denies this is where the idea for the Oreo came from, but the evidence at hand strongly indicates otherwise.
As for the name, there has never been a firm answer for why the National Biscuit Company chose "Oreo," though there are several theories. There is speculation that "Oreo" is derived from the French word for gold – "or," since the…