The following article is from the book Uncle John's Bathroom Reader Plunges into California.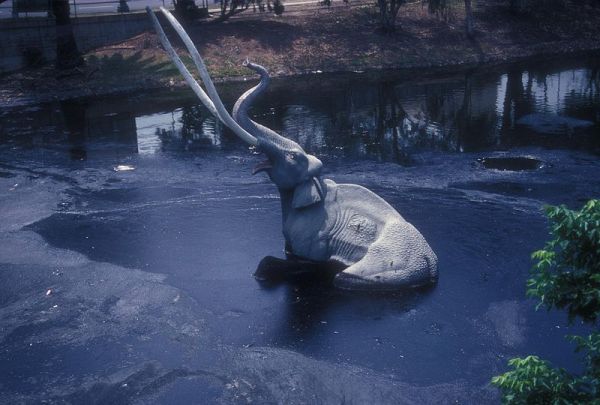 (Image credit: Jerrye & Roy Klotz, MD)
How much do you know about the Angelenos of the Pleistocene? Yeah, us either. Read on.
FANCY TAR?
Hancock Park, an affluent area of Los Angeles, is well known for its celebrity sightings, million-dollar homes, and the famous Hollywood sign in the distance. But some of the neighborhood's "residents" are even cooler. World-famous fossils—like the extinct dire wolf, saber-toothed tiger, and Columbia mammoth—are among the millions of specimens that have been excavated from the La Brea tar pits. Located on Wilshire Boulevard in the Miracle Mile, the tar pits contain one of the richest deposits of late Pleistocene era (the last ice age) fossils in North America. The fossils date from 10,000 to 40,000 years ago, and more than three million of them—including plants, mammals, birds, lizards, and insects—have been excavated since paleontologists first began digging there in the early 1900s.
The tar pits on display today were once excavation sites where workers dug for asphalt or scientists dug for fossils. Over the years, humans dug more than 100 pits throughout Hancock Park, but most of them have been refilled with dirt, debris, asphalt, and water. About 13 tar pits remain—the largest, called the Lake Pit, measures 28 square feet and is approximately 14 feet deep.
STICKY, GOOEY DEATH TRAPS
The La Brea tar pits formed thousands of years ago, when gas and oil beneath the ground came under pressure. The molten mixture pushed up through vents in the earth's crust. Once it reached the surface, the oil pooled in natural depressions aboveground. The lighter part of the pooling oil evaporated—left behind was a heavy, sticky oil. Then rain and underground springs added water, forming ponds and lakes on top of the oil and creating what we now call the tar pits.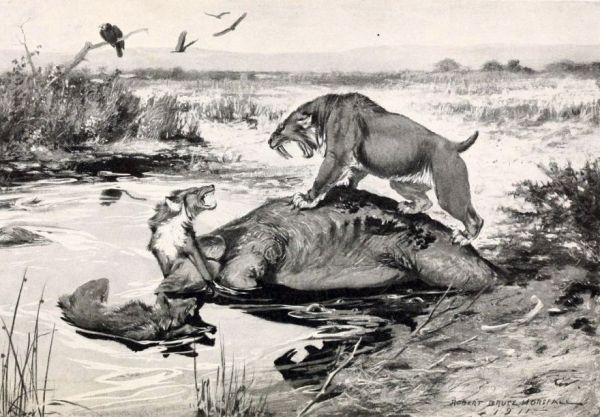 The water on the tar pits' surface was especially attractive to thirsty animals, and during the warm spring and summer, the thick oil underneath was especially sticky. Animals that ventured into to the pits couldn't escape. Often predators chased their prey into the pits and got stuck too. Paleontologists once found a large bison fossil surrounded by a pack of fossilized wolves. The dead animals eventually sank completely, and their bones and teeth turned brown from the oil. But otherwise, they were almost perfectly preserved for more than 30,000 years.
THOSE STRANGE CATTLE BONES
Hundreds of years ago, local Native Americans used the thick oil at the tar pits as waterproof caulking for their baskets and canoes. When the Spanish arrived in the 18th century, they used it to waterproof their houses. In 1828 the tar pits were part of a Mexican land grant called Rancho de la Brea (brea means "tar" in Spanish). When the United States took over California in 1848, the area was part of the deal, and ultimately, it came into the possession of lawyer and surveyor Henry Hancock…