Do you want to find the right answer online? Stop posting questions.
So goes Cunningham's Law, a counter-intuitive assertion that the best way to find the right answer online is to post something wrong and then get corrected. The law is named after Ward Cunningham, the pioneering computer programmer who developed the first Wiki site (WikiWikiWeb).
The concept of Cunningham's Law has turned into a popular internet adage ("the best way to get a right answer on the internet is to post a wrong answer"), even becoming a t-shirt.
Given how often we use the web to post questions, Cunningham's Law presents a challenge to our assumptions of why people online offer advice and answers. Following the logic of Cunningham's Law, the motivation to correct a wrong online may be greater than a more altruistic supplying of an answer to a question.
In other words, we get excited by correcting people online. We may not have the same level of desire to merely be helpful.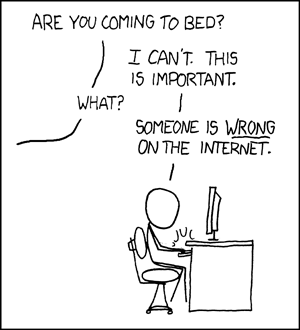 Cunningham's Law, and what it says about how we act online, is reminiscent of studies that have shown people more likely to share negative customer service experience online than good experiences. In both situations, the communicator gets to right…