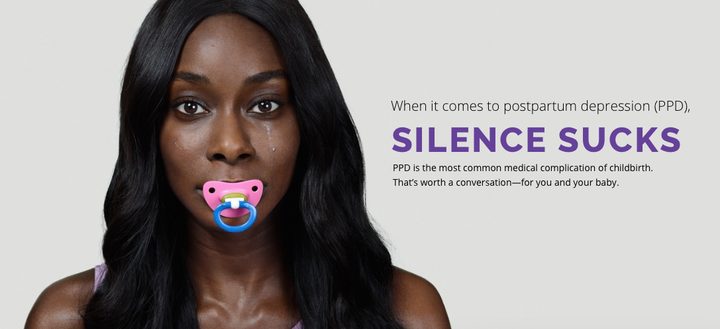 A campaign to generate awareness around postpartum depression is facing criticism for its imagery.
Sage Therapeutics launched "Silence Sucks" last month to encourage women to speak out about their struggles with PPD and seek treatment. The biopharmaceutical company is developing new treatment options for the disorder.
While many have praised Sage Therapeutics' efforts to help women with PPD and shatter the stigma around this topic, the "Silence Sucks" campaign has come under fire for its choice of visuals.
Ads for "Silence Sucks" appeared on public transportation in the Boston area for the month of May. The initiative also offers a website with resources and educational material about PPD.
The ads feature photos of women sucking on pacifiers. The accompanying text reads, "When it comes to postpartum depression (PPD), Silence sucks. PPD is the most common medical complication of childbirth. That's worth a conversation ― for you and your baby."
When Sage Therapeutics shared photos of the ad on Instagram, people were quick to express their concerns. "As someone who suffered from PPD this advertising campaign is demeaning and degrading." wrote one commenter.
"This ad campaign is disturbing. The conversation is worthwhile, but showing grown women with pacifiers in their mouths is severely misguided and infantilizing … What a missed mark on such an important conversation," added another. "Showing adult women sucking on pacifiers while crying does nothing to legitimize the emotions experienced by women during postpartum depression, but rather, diminishes and trivializes their experiences."
Over the past two weeks, the campaign has received international attention, as news outlets and social media users highlight the criticisms.
Postpartum depression survivor and blogger, Stephanie Sprenger, told HuffPost she also believes the campaign visuals are problematic.
"While the intention behind it may be good, the imagery is absurd and not the right tone for addressing such a serious and widespread issue," she said. "It is infantilizing and further isolates mothers with a visual that is silly and babyish. Opening up about postpartum mood disorders can feel humiliating, as it makes women feel defective and inadequate; adding a slightly embarrassing graphic does not improve this challenge."
Blogger Rebecca Fox Starr, who suffered from severe postpartum depression after the birth of her second child in 2013, said she is a strong advocate for speaking out about PPD. Though the 'Silence Sucks' campaign seems well intentioned, she believes it was "terribly misguided."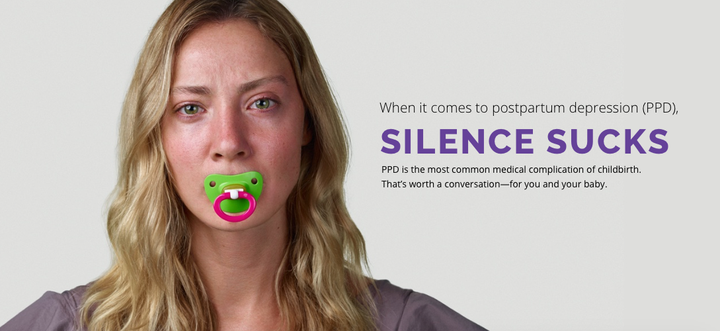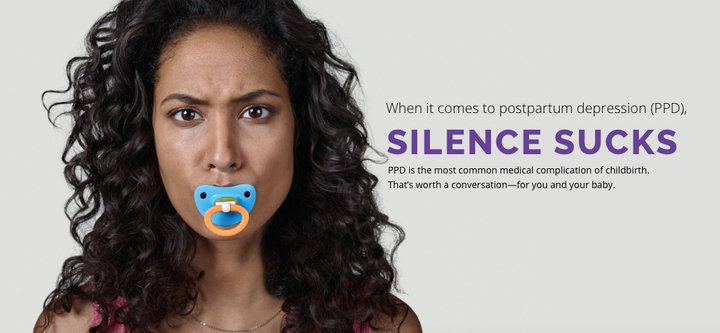 "I agree with the criticism that it is infantilizing and…