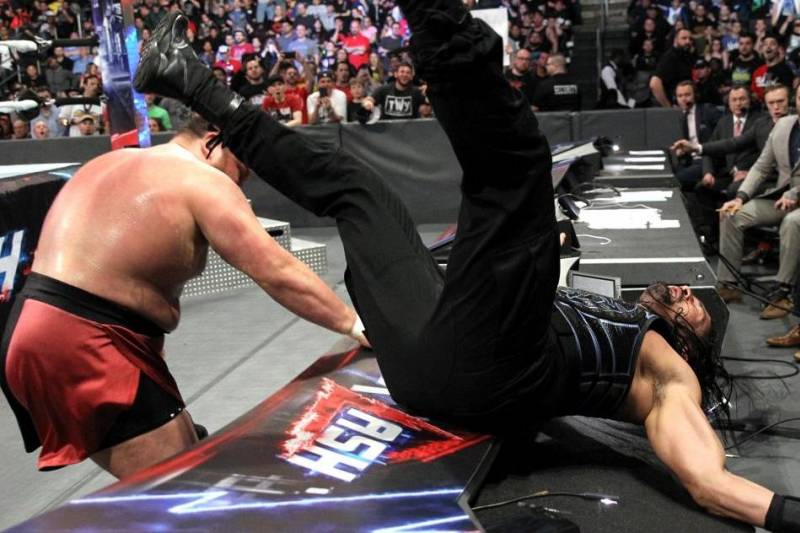 WWE has made many questionable and frustrating decisions over the past packed month of action, but WWE Backlash 2018 may end up standing out as the lowest point of the year for the company if the reaction to Sunday's show from Newark, New Jersey, was anything to go by.
On the surface, this card looked innocuous with Roman Reigns vs. Samoa Joe and AJ Styles vs. Shinsuke Nakamura leading the pack on a night with mostly filler. It was hard to even expect any surprises along the way.
Unfortunately, Backlash did stand out for its sheer audacity, managing to send fans walking out in droves before the show was even over. Pure booking alone caused an uproar that made up for a night with expected results across the board and no title changes.
Only the opener between Seth Rollins and The Miz overachieved, showing that WWE may have made a massive mistake that caused a reaction from many WWE fans that is hard to ignore.
The Unprecedented Main Event Walkout

The Reigns experiment has officially gone off the rails. The usually consistent in-ring performer has put on his worst string of main event performances in his career, and it had fans actually walking out of Prudential Center before his bout with Joe was over.
The contest got the first-ever "beat the traffic" chant as WWE cameras caught fans filing out of the building early. The milestone moment truly impressed Deadspin's David Bixenspan, as WWE showed the outrage of fans to a babyface victory:
David Bixenspan

I have never seen so many people obviously bolting for the exit in WWE PPV main event finish crowd shots before. #WWEBacklash
While some of this is related to the decision to only start the match after the three-hour mark, causing a massive 30-minute run over, it was also just a bad performance from two men putting on excellent TV matches together over the last year.
Where did fans put the blame? Obviously, they threw it squarely on Reigns' shoulders. The biggest takeaway was this had to be the final straw for Reigns' standing atop WWE, with Bleacher Report's own Dave Schilling and CBS Sport's Jack Jorgensen echoing each other on the matter:
Dave Schilling

I understand and accept that WWE believes Roman Reigns is a megastar. He's incredibly talented, so I get it. But the audience cannot stand him. Period. You cannot keep ignoring this. Putting out main event matches the crowd despises is not good business. #WWEBacklash
Jack Jorgensen

I'm not being sarcastic. I'm not being a smartass. One of the few times I'm gonna be completely serious and 100 percent sincere about something: This Roman Reigns BS has got to end. Enough is enough. #WWEBacklash
It is tough to say where WWE can go next after this. Reigns is clearly better than this performance, as is Joe, and there is certainly blame to go around. However, it would be silly to see fans walking out on your top babyface at this level and still believe there is no problem.
Booking Keeps Styles and Nakamura Away from Their Dream Match

Unfortunately, the big talk does not get much more positive regarding the other main event angle at Backlash, with Styles vs. Nakamura once again disappointing. This time, though, it was a case of backstage booking that kept them out of the spotlight.
Many were hoping that SmackDown's top duo would get the main event spot for the night, leaving many flustered when they started fighting with two matches left on the show. Fans and even broadcaster Sam Roberts questioned the decision:
JD

So, let me get this straight… Roman Reigns is more important than the WWE CHAMPIONSHIP? How can you justify such an intense program for the biggest prize in the sport and a heel turn that is wildly popular for Nakamura to NOT CLOSE the show??? #WWEBacklash
…
As content editor, I get to do what I love everyday. Tweet, share and promote the best content our tools find on a daily basis.

I have a crazy passion for #music, #celebrity #news & #fashion! I'm always out and about on Twitter.
Latest posts by Sasha Harriet (see all)
More from Around the Web