A husky is being credited with helping rescue a hiker who injured herself along the Crow Creek Trail in Chugach State Park, Alaska.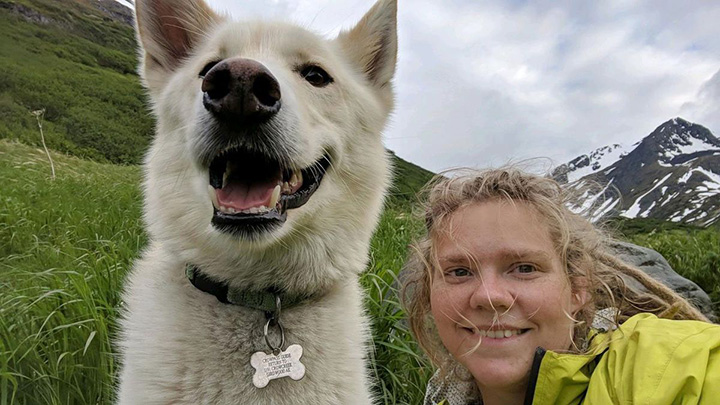 "He's Alaska's version of Lassie," said Lt. Eric Olsen with the Alaska State Troopers.
According to Olsen, a helicopter was dispatched after the agency received a report that an emergency locator beacon had been activated near Eagle River along the Crow Pass Trail. When Olsen arrived, he saw a sleeping bag alongside the river accompanied by a white dog.
Inside the sleeping bag was 21-year-old Amelia Milling, who troopers say was wet, dazed and scraped up. The hearing-impaired woman then recounted her harrowing tale to troopers by writing in a notebook.
Olsen said Milling told them that, after sustaining injuries a day earlier, she had fallen while trying to cross Eagle River. That was when Nanook sprang into action, helping pull her from the glacier-fed river.
"She slipped and fell, and the dog was able to save her and get her back to shore," Olsen said.
Milling said she set out Monday afternoon for a planned three-day hike. Things were fine until she reached the pass, where she encountered more snow than she expected.
"I'm a Southerner, so I wasn't thinking about snow," Milling told Anchorage Daily News.
She camped out and on Tuesday morning attempted to descend into the Eagle River Valley. But she lost her trekking poles, and as she tried to glissade down a long snow slope, she hit a rock that launched her into the air.
"I felt like I was flying," she said.
…
As content editor, I get to do what I love everyday. Tweet, share and promote the best content our tools find on a daily basis.

I have a crazy passion for #music, #celebrity #news & #fashion! I'm always out and about on Twitter.
Latest posts by Sasha Harriet (see all)
More from Around the Web