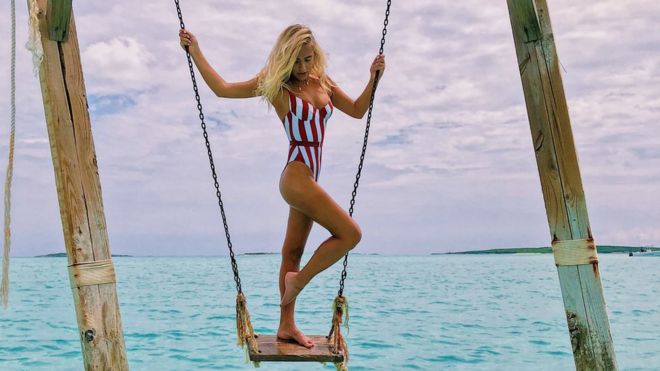 The Exuma islands in the Bahamas are famous for their white sandy beaches, crystal clear waters and endless photograph opportunities.
So when model Katarina Zarutskie visited with her boyfriend and his family last month, she was keen to make the most of the beautiful sights.
After a family lunch in an area known as Staniel Cay, Katarina spotted people snorkelling and interacting with a pack of nurse sharks nearby.
Despite concern from her boyfriend's family, she was keen to get into the waters to get some photographs with them.
'Child of the Sea'
The 19-year-old is due to start a double-degree in nursing and business in Miami, and is no stranger to the ocean, having grown up doing water sports in her native California.
"From my previous knowledge from surfing and scuba diving, I know nurse sharks are usually very safe," she tells the BBC. "I've seen countless photos of people with them on Instagram."
The fish have become a local tourist attraction, encircling the local docks and featuring in thousands of tagged photographs online.
She says that after a few minutes posing, a local resident on the pier encouraged her to lie back and float in the water.
"At this point people were starting to take photos and right as I lay back, after a few seconds, I was pulled under," she says.
Her boyfriend's father was photographing Katarina at the time, and accidentally caught the whole incident in a series of images.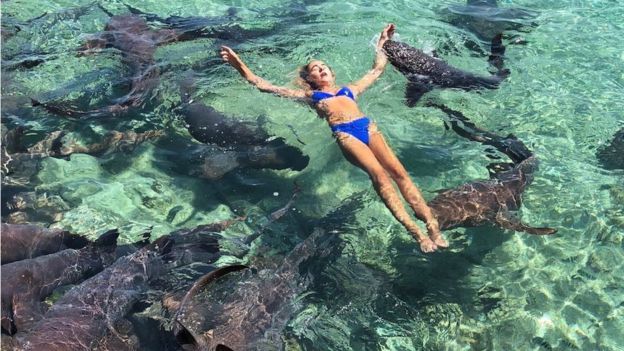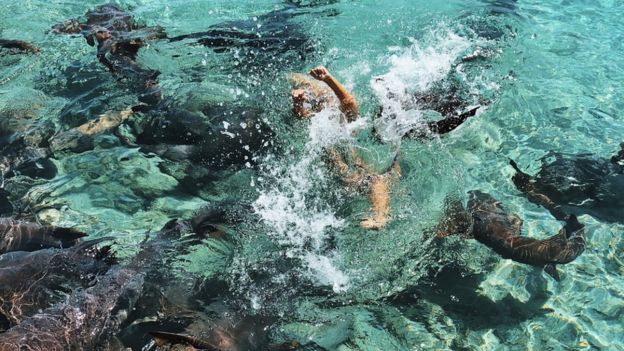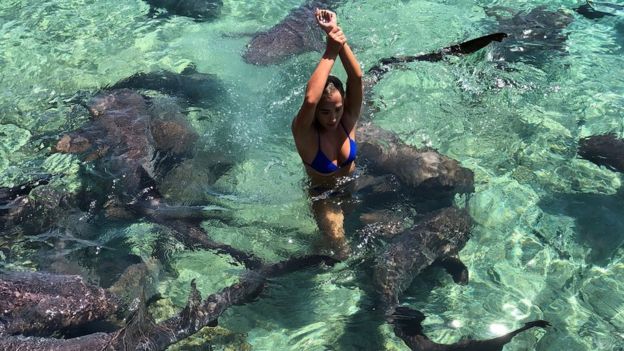 [Warning: some images…
As content editor, I get to do what I love everyday. Tweet, share and promote the best content our tools find on a daily basis.

I have a crazy passion for #music, #celebrity #news & #fashion! I'm always out and about on Twitter.
Latest posts by Sasha Harriet (see all)
More from Around the Web