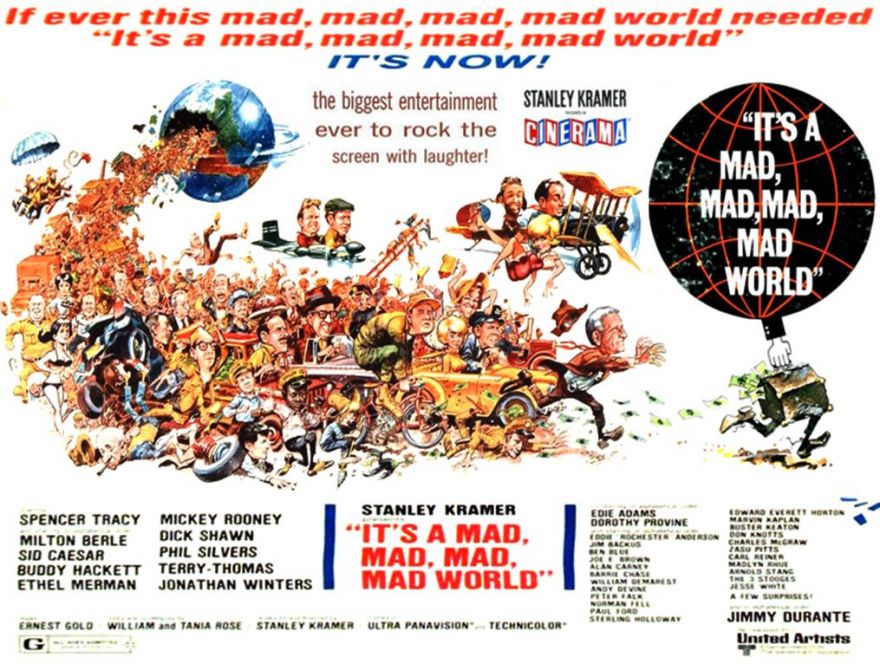 When one hears the phrase, "they don't make 'em like that anymore", it typically refers to something obsolete such as 8-track tape decks. Used in cinematic references, it may really mean, "They can't make 'em like that anymore", which is certainly descriptive of Mel Brooks' politically incorrect Blazing Saddles, or in this specific instance, 1963's It's a Mad, Mad, Mad, Mad World.
Films like this can't be made anymore because of the bloated Hollywood egos and equally bloated salaries that would be involved. It has an enormous cast and practically everyone who was then or had once been involved in comedy makes at least a cameo appearance. Those few comedians who do not appear simply could not do so because of conflicting contractual obligations. From the IMDb:
The story begins after an automobile speeding through traffic runs off-road and crashes in a ravine in the California hills. Driver Smiler Grogan, now dying, cryptically tells the assembled travelers who have come to his rescue that he's buried $350,000 in stolen loot under the 'Big W' in a nearby town, this just before literally kicking the bucket. All of the motorists then set out in a race to find the hidden fortune, and others join in along the way. Hilarity ensues.
The cast is one-of-a-kind, just another reason why "They can't make 'em like that…
As content editor, I get to do what I love everyday. Tweet, share and promote the best content our tools find on a daily basis.

I have a crazy passion for #music, #celebrity #news & #fashion! I'm always out and about on Twitter.
Latest posts by Sasha Harriet (see all)
More from Around the Web