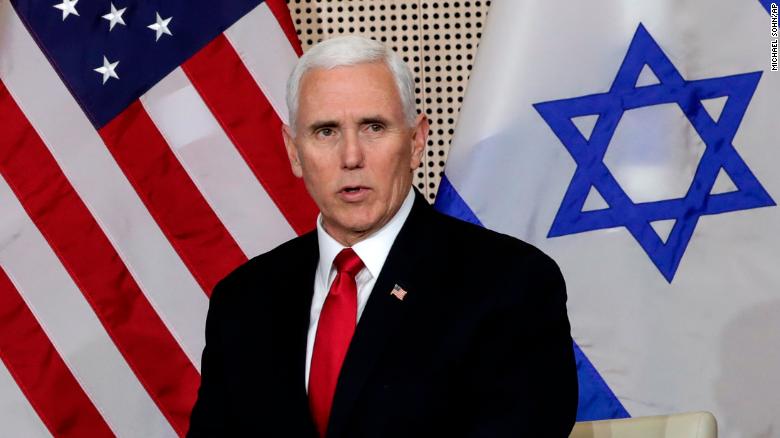 Washington (CNN)US and Israeli leaders continued to push for confrontation with Iran at the Warsaw ministerial meeting on Middle East security Thursday, strongly criticizing Europe as they did so.
Vice President Mike Pence cast Iran as the central driver of all regional instability as he addressed the 62 countries gathered in Warsaw and ripped into Europe for its refusal to leave the Iran nuclear deal and join Washington on increasing sanctions on Tehran.
"Sadly, some of our leading European partners have not been nearly as cooperative" on Iran as countries in the Gulf have been, Pence said in an address to the ministerial.
Referring to Iranian protests in 2009, the vice president said, "The world missed an opportunity last time to confront the regime, but not this time."
Israeli Prime Minister Benjamin Netanyahu, after a public appearance with Pence Thursday, told NBC that Iran "has to be countered and it has to be countered now." Asked if that means regime change, Netanyahu said, "I don't rule anything out."
A day earlier, the Israeli leader's office released, then softened a statement saying he had met with Gulf leaders to discuss their common interest in "war with Iran." On Thursday, Netanyahu added his own criticism of Europe, noting that the US had pulled out of the Iran deal and added sanctions. "The Europeans should join this effort rather than try to circumvent it," he said.
Pence's remarks — both about Europe and advocating for an aggressive stance against Iran — are likely to become yet another irritant between the US and Europe, already at odds over the Iran nuclear deal, trade, the Paris climate…
As content editor, I get to do what I love everyday. Tweet, share and promote the best content our tools find on a daily basis.

I have a crazy passion for #music, #celebrity #news & #fashion! I'm always out and about on Twitter.
Latest posts by Sasha Harriet (see all)
More from Around the Web