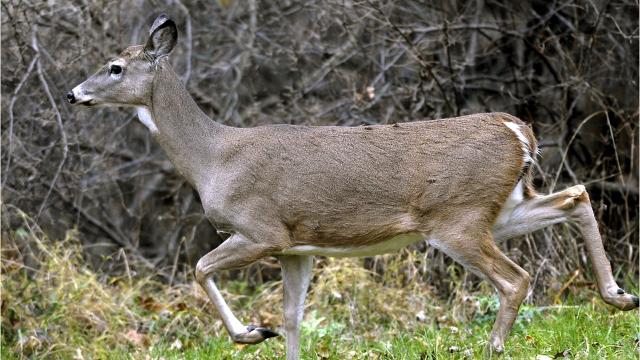 Wochit-All
Last week, an expert in infectious disease suggested an ailment found largely in deer could impact humans.
During a hearing before lawmakers in Minnesota, Michael Osterholm, director of the Center for Infectious Disease Research and Policy at the University of Minnesota, offered the warning on chronic wasting disease, which has been confirmed in 25 states.
"It is probable that human cases of chronic wasting disease associated with consumption with contaminated meat will be documented in the years ahead," said Osterholm. "It's possible the number of human cases will be substantial, and will not be isolated events."
Here's everything you need to know about the "zombie" deer disease.
What is it?
CWD was first observed in the 1960s at a research facility in Colorado. It has now been confirmed in 24 states and two Canadian provinces as of January, said the Centers for Disease Control and Prevention.
CWD is a transmissible spongiform encephalopathy disease in deer, elk, moose and reindeer/caribou and always kills its victims. The source of the disease is an abnormal prion — a form of protein — that collects in the animal's brain cells, according to the North Carolina Wildlife Commission. These brain cells eventually burst, leaving behind microscopic empty spaces in the brain matter that give it a "spongy" look.
The disease has no cure or preventative measures at this time, said Emily Wood, executive director of the Indiana Wildlife Federation. So if an animal is infected, it will die.
The disease is believed to spread through saliva, urine or feces from live deer or through contact with high-risk parts such as the backbone, eyes or spleen of harvested deer. The disease can spread through the natural movement of deer, Wood said,…
As content editor, I get to do what I love everyday. Tweet, share and promote the best content our tools find on a daily basis.

I have a crazy passion for #music, #celebrity #news & #fashion! I'm always out and about on Twitter.
Latest posts by Sasha Harriet (see all)
More from Around the Web